Admins can give permissions to Heads of Above Units to create
1. Library Categories,
2. Training Categories (Courses, Curricula, Events) and
3. Group Categories.
In order to do this, the admin needs to hover over Admin from the top menu and select the Manage Hierarchy tab from the submenu. In the new page, select the Above Units tab.
The Admin can select the Above Unit type to which the permissions will be given. There is a button titled "Decentralized Permissions". Clicking on this will present the available permissions as presented in the following image.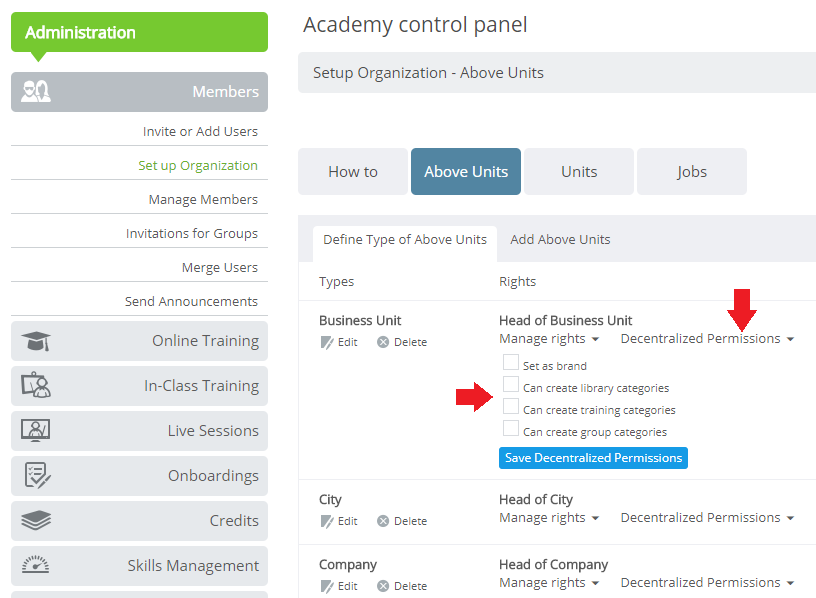 After selecting the desired permissions, the admin needs to click on the button "Save Decentralized Permissions" to save the changes.
Once permissions are given, a new category will be created with the title of the Above Unit. For example, if the admin select the Above Unit Type "City" to have permissions in order to create Training Categories (aka Course Categories) and there is an Above Unit titled "New York" of Type "City", then the Head of the Above Unit "New York" will have a new category titled "New York" in the Course Categories.
The Head of the Above Unit will be able to add permissions to this category (for jobs and connected units) or create subcategories. Users from other Above Units or Units not connected to the Above Unit "New York" will not be able to see this category.
The Head of the Above Unit should add content in their Above Unit's Training Categories if they want to have it public for their employees. If they add Training content (Course, Curricula, Event) or Group without selecting a category then it will be marked as private and will not be allowed to convert to public until it is inserted in an Above Unit's Category.