The UKG Pro Learning solution gives you a high degree of freedom on how to create a course. You can add lectures by uploading your own files, such as SCORM files. The Learning solution is compatible with multiple versions of SCORM files such as:
SCORM 1.2,
SCORM 2004 (multiple editions),
AICC files,
xAPI and
cmi5.
In order to publish your training, firstly you have to prepare your Course/SCORM containing slides, video, content, quizzes, etc. There are multiple settings for each authoring tool that can be used while publishing your course. You can either access our step-to-step guides on how to publish your SCORM files or contact the UKG Pro Learning support team to provide you additional information and troubleshoot any possible issue that may come up while on SCORM files published with:
Adobe Captivate 9,
Adobe Captivate 2019
Articulate Storyline 2,
Articulate Storyline 3,
Articulate Rise, and
Articulate Storyline 360.
Our support team is able to provide you the needed guidance on a daily basis. Please feel free to contact us to investigate and troubleshoot your issues. Providing us with the information mentioned below, we would be able to resolve your issue in a minimum of time.
An extended description of the issue you are experiencing,
The user(s) on which this issue occurred,
The device in which the training had been accessed

A personal computer with a web browser. In that case please provide us the name of the web browser and its version.
A mobile device. In that case, please clarify if the training was accessed with a mobile browser, or within the UKG Pro Learning App (IOS or Android), and the version of each App (either UKG Pro Learning App or mobile browser App).

The authoring tool with which the SCORM file has been published.
Due to the wide variety of authoring tools and settings used on each published file, our team examines and applies different sets of settings to resolve each case. The troubleshooting period may vary depending on the case, the authoring tool, and the information provided to our team while contacting us. Here is a list of eight common tech support issues that could occur while using the UKG Pro Learning solution:
Not saving the user's progress,
Time tracking,
Completion tracking,
Exams score,
Blank screen,
Browser compatibility,
Re-publishing corrupted SCORM file(s), and
Not supported SCORM file(s) or network issue.

In this case, you will receive the error message below. Please try again to upload your file, to ensure if this issue is related to a network delay or to the SCORM file itself. If the issue is replicated again, please contact our team and provide us the "Reference ID" number which is available in the last line of the error message.
SCORM file update options
There are additional options available to manage your SCORM file. Please contact your UKG representative to enable these additional options. View the option descriptions listed:
Mobile Compatible – able to view the SCORM/AICC file via mobile device as well as desktop.
Hide SCORM Exam - If this is off, the exam will be included in the Reporting Features and the users will be able to see their score below the lecture. Activate this If you do not want the exam to be visible.
SCORM Redirect - allows the SCORM/AICC file content to be redirected to display in its own tab, versus within the viewer iFrame.
Please have in mind, that the "SCORM Redirect" should not be used for courses that do not have an "exit" button, as they will not be able to terminate their course and return to the course page.
Open in New Window - the content viewer will open first, and then the user will be prompted for another window that will open. When this feature is enabled, the SCORM/AICC file content can be resized and/or interacted with (whereas before, the content might have been hidden/cut off due to the limited viewer iFrame settings). This will also give another step when the user exits the course material -- either by a built-in Exit button, or by closing the window -- which will then prompt the user to 'X' out of the viewer.
Optional Buttons Display – will show arrows at top of viewer to allow user to go back and forth vs using SCORM/AICC created navigation buttons.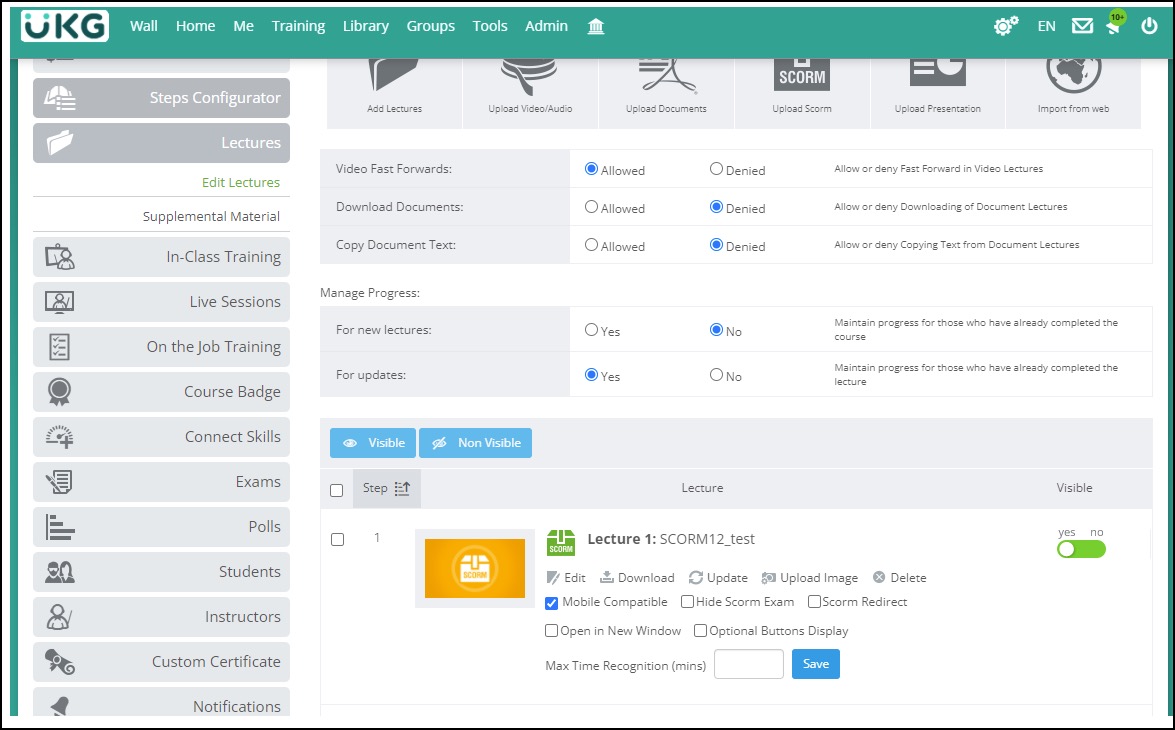 If you have any additional inquiries on setting up your SCORM courses or face or any other SCORM-related issues, please submit a partner case to our support team!