As an admin of an Academy, you can edit exam attempts in various ways. You can create an attempt on an exam that hasn't been taken yet on behalf of a member.
To do so, navigate to your Admin panel from the upper navigation menu. Under Reporting, select Employees Dashboard. From the panel that opens select Courses to search for the desired course.
Select the course, and the name of the employee. Clicking on the Details option, will show you the progress of the employee on the course's lectures and exams. Scroll down to the exams panel, and click again on Details.
You have now the following 3 options:
Create an attempt ( just click on the Add attempt by admin option)
Edit an attempt (either successful or unsuccessful)
Delete an attempt (allowing an employee to retake the exam which has exam-attempts' limit)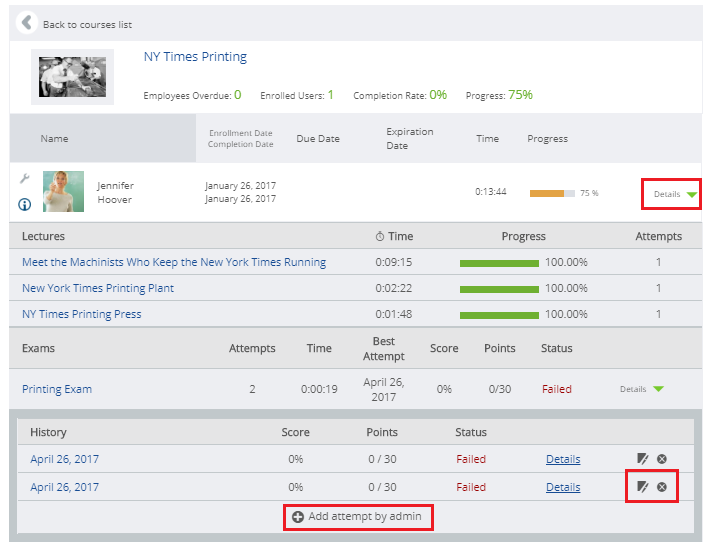 When adding or editing an attempt, you have the option to add/edit the attempt's date and score. You also have the option to add a comment, to remember the reason for adding/editing an attempt!


Once you click Save, you will be able to identify the attempts that were Added or Edited by an admin and check any comments that have been added to them. For the Edited attempts, you also have the option to restore them, by clicking the restore icon.



Please note that new attempts don't come with any details about the exam questions.