In UKG Pro Learning, members with Admin rights or group creators with the Assign Training permission can assign curricula to Academy groups.
Navigation: Admin > Online Training > Assign Training > Curricula > select a curriculum
Select a Group
From the assignment options, select Group Assignment.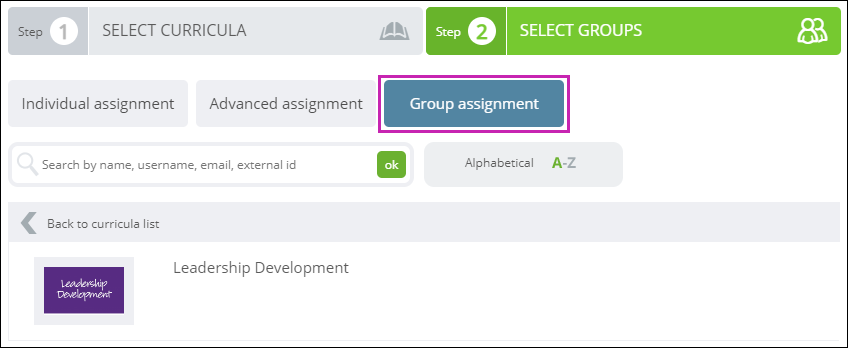 From the Filter List column, select the plus symbol next to each group to which you want to assign the curriculum.
Note: To remove a group from the Selected Groups list, select the minus symbol next to the group name.
Optional. Next to Employees to assign, select the text in parenthesis to download a list of the assignees included in the selected groups.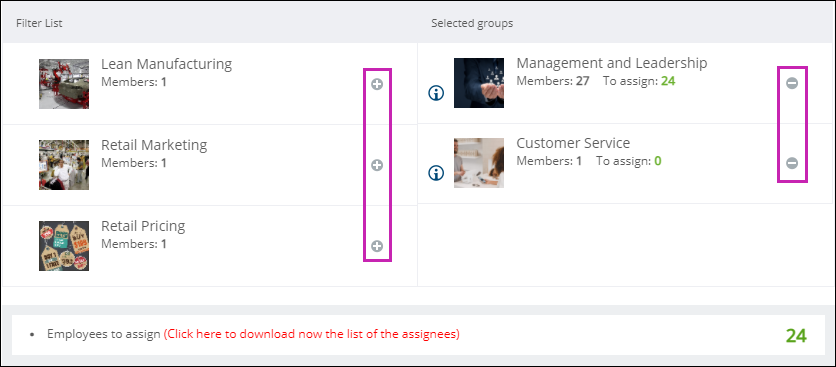 Note: Admins can select any of the existing Academy groups. Managers can only select groups they created.
Below each group name is the total number of members in the group. After selecting a group for assignment, the To assign count displays. UKG Pro Learning automatically excludes specific members from assignment based on the following:
If an Admin assigns a curriculum to a group of which they are a member, they are excluded from the assignment.
If a Group Creator assigns a curriculum to a group, any member the Group Creator does not have permission to assign to is excluded from the assignment.
If a member of a selected group is already enrolled in the selected curriculum, they are excluded from the assignment.
Configure Assignment Settings
From the Due Date drop-down list, select The curriculum has to be completed in and enter a number of days, or select The curriculum has to be completed by and enter a date.
Optional. In the Message field, enter a message for the assignees.
Optional. Select Upload Attachment to include a file with the assignment.
Select Assign.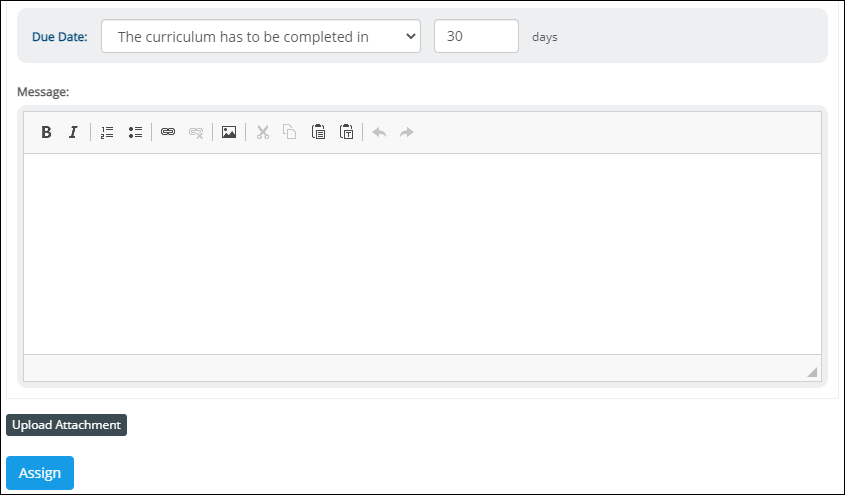 Create an Automated Assignment Rule
When creating a Group Assignment, you can assign the curriculum one time, or you can add an automated assignment rule to automatically assign the curriculum to anyone who is added to the selected group in the future.
Select the desired groups as described above.
Check the Automated Assignment Rule box.
Optional. In the Assignment Profile Name field, enter a name for the assignment profile.
Select the desired assignment settings as described above.
Optional. Check the Assign Now box to assign the curriculum to all current members of the selected groups.
Select Set Rule.