You can manage the lectures of your course by navigating to the Manage Course page and selecting Edit Lectures under the Lectures tab.
Once you do so, a list including all your course's lectures will appear. You can sort the list by using the sorting criteria, which will help you have a better view of your course's lectures.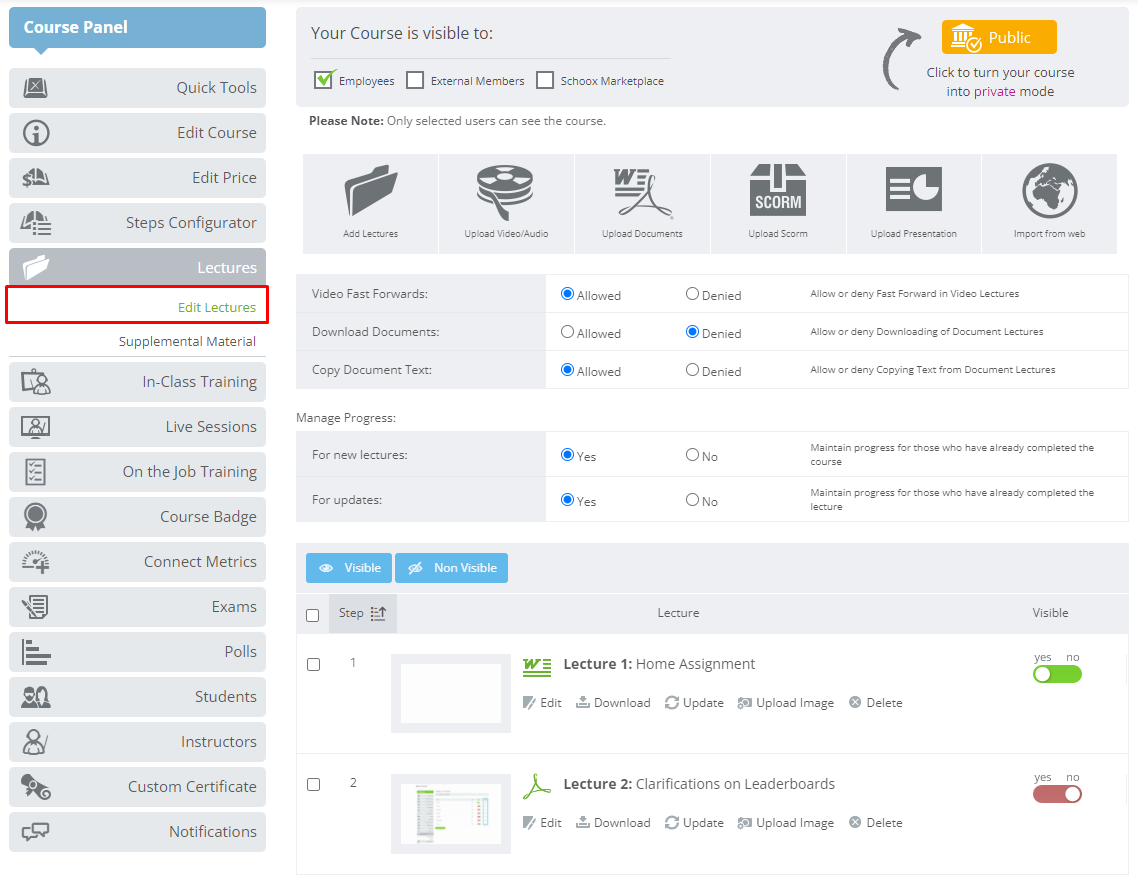 You have the following options available:
Edit lecture: You can change the title or the description of the lecture.
Delete lecture: This option will delete the lecture from the course.
Update lecture: You can upload a newer version of that lecture.
Upload an Image: You can add a thumbnail image for your lecture
Make the lecture Public or Private: This means that users will be able to see the lecture or not. This option does not delete the lecture.
For SCORM lectures specifically, you may also have two to four additional settings, depending on how your SCORM is set up:
Mobile Compatible: If you disable this your users will not be able to access this lecture through their mobile devices.
Hide SCORM Exam: If this is disabled and your SCORM includes an exam, then the exam will be included in the Reporting Features and the users will also be able to see their score below the lecture. If you do not want the exam to be visible anywhere make sure to enable this. There is also a universal setting for this, which Admins can define under Advanced Settings.
Optional Buttons Display: If you enable this, three buttons will be added to the top bar of your SCORM lecture, which may help your users navigate the lecture.

Max Time Recognition (mins): By adding a number of minutes here, you define that the time spent logged for this course cannot be longer than this. If a user spends more time than the one defined, the extra minutes will not appear on the dashboard.
You can also make multiple lectures Public or Private at the same time! To do so, just select your preferred lectures by checking their checkbox, and click on the Visible or Non Visible button based on your needs!